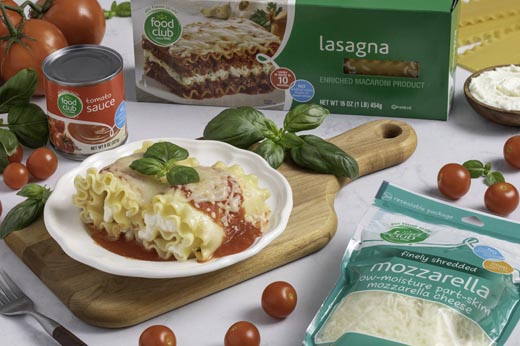 Air Fryer Lasagna Roll-Ups
Prep Time: 15 minutes
Cook Time: 30 minutes
Total Time: 45 minutes
Serves: 12
Ingredients
Nonstick cooking spray
1 (16-ounce) Food Club Lasagna Pasta
2 cups whole milk ricotta cheese
1/2 cup grated parmesan cheese
1 1/2 cups Food Club Shredded Mozzerella Cheese, divided
1 teaspoon kosher salt
1 teaspoon Italian seasoning
1 (8-ounce) can Food Club Tomato Sauce, divided
Fresh basil for garnish
Method
Preheat air fryer to 350°F. Coat a 9-inch metal baking pan with cooking spray.
Bring a large pot of water to a boil and cook pasta according to package directions. Drain pasta and rinse with cold water. Lay noodles on a parchment-lined baking sheet in a single layer, to keep from sticking together, and set aside.
In a large bowl mix together ricotta, parmesan, 1 cup mozzarella, salt and Italian seasoning until thoroughly combined.
Spread a layer of cheese mixture onto each lasagna noodle and roll up. Place roll-ups into prepared pan and top with a thin layer of tomato sauce and remaining mozzarella cheese. Cook for 15-20 minutes, until cheese is melted and filling is hot. If top browns before filling is cooked, cover pan with foil.
Garnish with fresh basil, and serve with remaining tomato sauce.