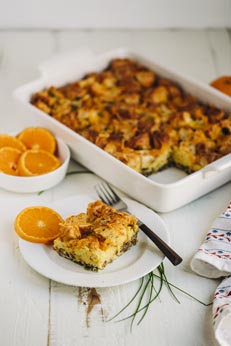 Breakfast Sausage Croissant Bake
Download
Serves: 6
Ingredients
2 tablespoons olive oil
1 medium-sized yellow onion, diced
1 small green bell pepper, seeded and diced
1 pound breakfast sausage
12 eggs
1/2 cup milk
1 tablespoon Dijon mustard
1 teaspoon salt, divided
1/4 teaspoon black pepper
2 cup shredded cheddar cheese
4 large croissants cut into 1 inch cubes
Green onion or chives for garnish
Directions
Preheat oven to 350°F.
Heat olive oil in a large skillet over medium heat. Add the onion and bell pepper to the pan, stirring frequently until the onion is tender.
Add the sausage to the pan, and brown and crumble the meat until cooked through. Remove pan from heat.
Prepare a 9×13 inch casserole dish by spraying with cooking spray.
Assemble the casserole by transferring the sausage mixture the bottom of the pan and pouringthe egg mixture over the sausage.
Sprinkle 1 cup of the cheese over the casserole and top with cut pieces of croissant. Gently press the croissants into the egg just enough to make sure the croissants can absorb some of the egg while baking and top with the remaining 1 cup cheese. Cover the pan with foil.
Bake for 30 minutes. Remove the foil and bake an additional 5-10 minutes or until the tops of the croissants are golden brown. The middle should be firm and starting to puff up a bit.