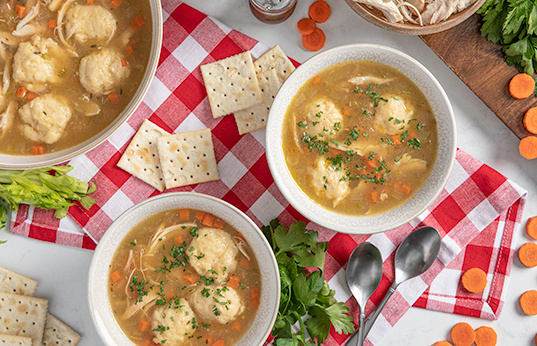 Chicken and Dumplings Soup
Download
Prep Time: 15 minutes
Cook Time: 30 minutes
Total Time: 45 minutes
Serves: 8
Ingredients:
5 tablespoons butter, divided
1 yellow onion, diced
2 large carrots, diced
2 ribs celery, diced
2 teaspoons kosher salt
1/2 teaspoon ground black pepper
1/4 cup chopped fresh parsley (plus more for serving)
6 cups chicken stock
2 tablespoons cornstarch
3 cups shredded rotisserie chicken
1-1/2 cups all-purpose flour
1-1/2 teaspoons baking powder
3/4 cups milk
Method:
Melt 2 tablespoons butter in a large pot over medium heat. Add onion, carrots, celery, 1 teaspoon kosher salt, pepper and thyme. Sauté for 5 to 7 minutes, or until onions have softened. Add parsley and chicken stock and bring to a boil.
Remove 1/2 cup of the hot stock and whisk in cornstarch, combining until smooth. Pour cornstarch mixture back into the pot and stir to incorporate. Stir in shredded chicken, reduce heat to medium-low and cover.
Melt the remaining 3 tablespoons of butter. Whisk together flour, baking powder, and remaining teaspoon of kosher salt. Stir melted butter and milk into flour mixture until no dry flour remains.
Dollop spoonfuls of dumpling mixture into simmering soup. Cover and cook for 10 to 15 minutes, or until the dumplings have doubled in size and are cooked through. Garnish with more chopped parsley.