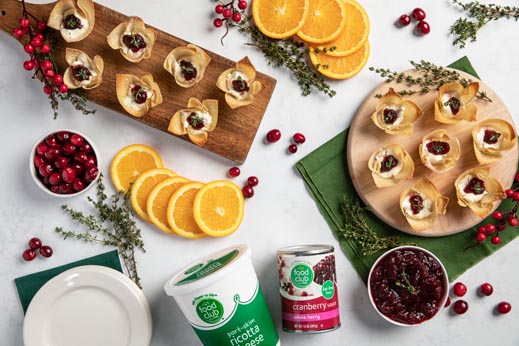 Cranberry Ricotta Wontons
Download
Prep Time: 10 min
Cook Time: 10 min
Total Time: 20 min
Serves: 24
Ingredients
Nonstick cooking spray
24 wonton wrappers (2 inch)
1 (15-ounce) container Food Club Part-Skim Ricotta
1/2 teaspoon kosher salt
1/2 teaspoon ground black pepper
2 tablespoons olive oil
1 tablespoon orange zest
2 tablespoons chopped fresh thyme (plus more for garnish)
1 cup Food Club Whole Berry Cranberry Sauce
Method
Preheat oven to 350°F. Coat a mini-muffin pan with nonstick cooking spray. Place one wonton wrapper in each muffin cup and press down to shape. Bake 8 to 10 minutes, until golden-brown and crisp. Transfer to wire rack and let cool completely.
While wontons bake, combine ricotta, salt, pepper, olive oil, orange zest, and thyme in a food processor. Process until mixture is smoothe and creamy, about 2 minutes, scraping down sides of bowl as necessary.
Divide whipped ricotta mixture between wonton cups and top each with a dollop of cranberry sauce. Garnish with fresh thyme.