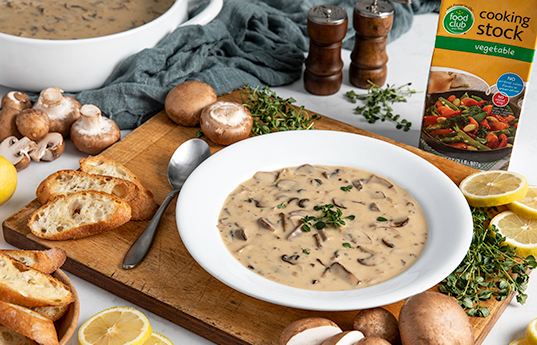 Cream of Mushroom Soup
Download
Prep Time: 5 minutes
Cook Time: 30 minutes
Total Time: 35 minutes
Serves: 4
Ingredients:
1 tablespoon olive oil
1 pound cremini mushrooms, sliced
1 yellow onion, minced
2 tablespoons chopped fresh thyme, plus more for serving
1 teaspoon kosher salt
1/2 teaspoon ground black pepper
3 tablespoons butter
1/3 cup flour
2 cups milk
3 cups vegetable broth
1 tablespoon lemon juice
Method:
Add olive oil to a large pot set over medium-high heat. Add mushrooms and sauté, stirring frequently until brown, about 10 minutes. Add onion, thyme, salt and pepper and continue to cook until onions have softened, about 5 minutes.
Add butter and melt completely. Sprinkle over flour and cook, stirring constantly for 2 minutes. Gradually whisk in milk and broth. Bring to a boil and reduce heat. Simmer for 15 minutes.
Before serving, stir in lemon juice and season, to taste, with more salt and pepper. Serve garnished with fresh thyme.