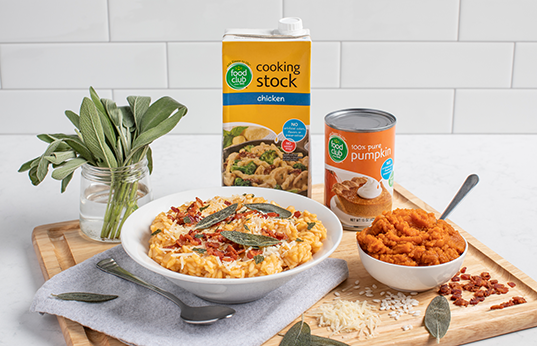 Easy Pumpkin Risotto
Download
Prep Time: 5 minutes
Cook Time: 25 minutes
Total Time: 30 minutes
Serves: 4
Ingredients:
For Risotto:
● 2 tablespoons olive oil
1/2 yellow onion, diced
1 teaspoon salt
1/2 cup Food Club 100% Pure Pumpkin puree
2 cups arborio rice
4-5 cups Food Club Chicken Cooking Stock, divided
1/2 cup shredded Parmesan cheese
For Topping:
6 strips Food Club Bacon, cooked and crumbled
Parmesan cheese
8 fresh sage leaves
Method:
In a large skillet or frying pan, heat olive oil over medium heat. Add fresh sage leaves and fry until crispy, about 5 seconds. Transfer to paper towel. To the same pan add onion and salt. Cook until fragrant, about 5 minutes. Add rice and coat with oil, stirring 1 minute longer.
Add pumpkin puree and 1 cup chicken stock, bringing up to a gentle simmer. Stir constantly until liquid is absorbed, 3-5 minutes. Repeat, 1 cup at a time, until stock is gone or rice is cooked fully.
Stir in Parmesan and serve immediately. Garnish with bacon crumbles, fried sage leaves, and additional Parmesan, if desired.