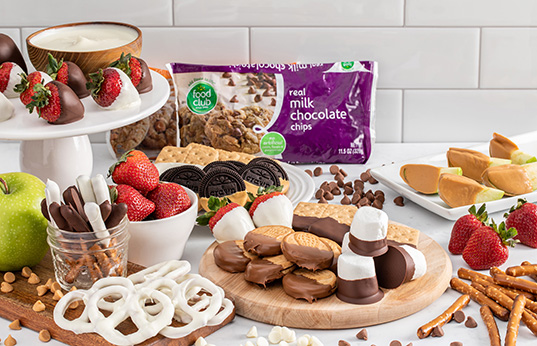 Melting Chocolate
Download
Prep Time: 5 minutes
Cook Time: 5 minutes
Total Time: 10 minutes
Serves: 20
Ingredients
1 1/2 cups heavy cream
1 (11.5 oz) bag Food Club Baking Chips
Assorted fruit and cookies for dipping
Method
Pour baking chips into a large, heat-proof bowl. Heat heavy cream in a small saucepan over medium heat until simmering.
Pour hot cream over baking chips and let stand for 1 minute. Sir gently with a rubber spatula until chips are completely melted.
Dip assorted fruits, candies and cookies into melted chocolate and let set on a parchment lined baking sheet until room temperature or chill.