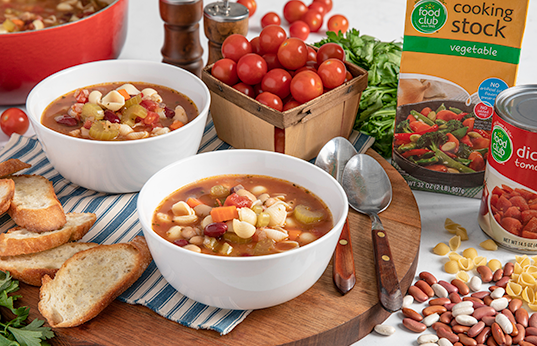 Minestrone Soup (Vegan)
Download
Prep Time: 15 minutes
Cook Time: 30 minutes
Total Time: 45 minutes
Serves: 6
Ingredients:
2 tablespoons olive oil
1 medium yellow onion, chopped
2 medium carrots, chopped
2 medium celery stalks, chopped
teaspoon kosher salt
1/2 teaspoon ground black pepper
1/2 teaspoon dried oregano
6 cups vegetable broth
1 (15-ounce) can diced tomatoes
1 (15-ounce) can red kidney beans
1 (15-ounce) can cannellini beans
1/2 cup uncooked mini shell pasta
1/4 cup chopped fresh parsley
Method:
Heat olive oil in a large pot over medium-high heat. Add onion, carrots, celery, salt, pepper and oregano and sauté for 10 minutes, or until vegetables have begun to soften.
Add vegetable broth, tomatoes, kidney beans and cannellini beans. Bring to a boil and reduce heat to medium-low. Simmer for 10 minutes, uncovered. Add pasta and continue to cook for 6 to 8 minutes, or until pasta is tender.
Stir in chopped parsley and season with more salt and pepper, to taste.