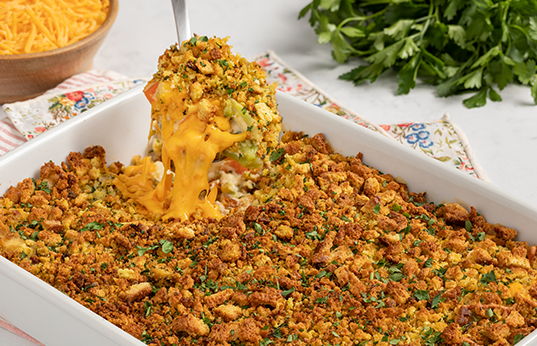 Mixed Vegetable Gratin
Download
Prep Time: 5 minutes
Cook Time: 40 minutes
Total Time: 45 minutes
Serves: 10
Ingredients:
2 (16-ounce) bags Food Club California Blend Vegetables, thawed
5 tablespoons butter, divided
3 tablespoons flour
3 cups milk
1/2 teaspoon kosher salt
1/2 teaspoon ground black pepper
1 tablespoon Dijon mustard
1-1/2 cups Food Club Shredded Cheddar Cheese
1/3 cup grated Parmesan cheese
1 (6-ounce) box Food Club Cornbread Stuffing Mix
1/4 cup chopped fresh parsley
Method:
1. Preheat oven to 375°F and coat a baking dish with nonstick cooking spray. Pat thawed vegetables dry with paper towels and set aside.
In a large pot over medium heat melt 3 tablespoons butter. Add flour and whisk until completely incorporated. Cook, stirring frequently, for 1 minute.
Add milk, whisking constantly, and bring to a boil. Add salt, pepper, mustard, cheddar and Parmesan cheeses. Mix until combined and remove from heat. Fold in vegetables until thoroughly combined. Transfer to prepared baking dish.
In a medium bowl, melt butter in the microwave. Add cornbread stuffing and toss to combine. Sprinkle mixture evenly over vegetable gratin and bake for 30 minutes, or until the center is hot and the top is golden-brown. Garnish with chopped parsley.