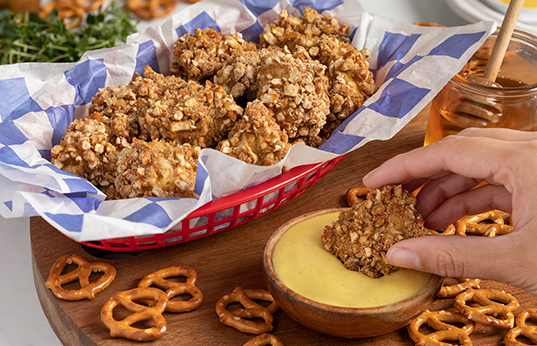 Pretzel Crusted Chicken Nuggets
Download
Prep Time: 20 minutes
Cook Time: 20 minutes
Total Time: 40 minutes
Serves: 4
Ingredients:
3 cups Food Club Pretzels
1 cup all purpose flour
1 tablespoon chopped fresh thyme
1 teaspoon garlic powder
2 Food Club boneless skinless chicken breasts, cut into 1 1/2 inch pieces
1/2 teaspoon kosher salt
1/2 teaspoon ground black pepper
2 cups Food Club Honey Mustard Dressing, divided
Nonstick cooking spray
Method:
Preheat air fryer to 350°F. Crush pretzels into coarse crumbs in a food processor or blender. Transfer to a shallow dish or plate and set aside. In a separate dish whisk together flour, chopped thyme and garlic powder. Add 1 1/2 cups dressing to a third dish.
Season chicken with salt and pepper. Lightly coat chicken in flour, dusting off any excess. Dip flour coated chicken in dressing, letting excess drain off. Dredge dressing coated chicken in pretzel crumbs, pressing to adhere.
Working in batches place chicken in a single layer in preheated air fryer. Spray with nonstick cooking spray and bake for 8- 10 minutes or until golden brown and cooked through. Continue until all chicken is cooked.
Serve chicken with remaining honey mustard dressing for dipping.