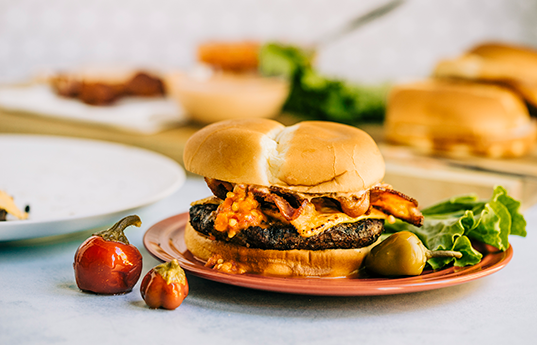 Smoky Cherry Pepper Burgers
Download
Serves: 4
Ingredients
For the sauce:
1/2 cup mayonnaise
1 tablespoon Dijon mustard
2 teaspoons ketchup
1 tablespoon pickle juice
1 teaspoon smoked paprika
1/8 teaspoon chipotle chili powder or cayenne pepper
For the Cherry Pepper Relish:
1 (16-ounce) jar sweet red cherry peppers, drained
2 tablespoons honey
1 tablespoon olive oil
For the Burgers:
6 frozen beef patties
6 hamburger buns
6 slices American cheese
6-10 slices bacon, cooked until crisp
Salt and pepper
Directions
Combine all the ingredients for the sauce in a small bowl and whisk until smooth. Set aside.
Remove the stems from the cherry peppers and place in a blender or bowl of a food processor. Add the honey and olive oil and blend until smooth and only seeds remain. Set aside.
Cook the beef patties on a grill or griddle according to the package directions and season with salt and pepper. Add a slice of cheese to the top of each burger at the end of cooking and allow it to melt before removing from the heat.
Spread 1-2 tablespoons each of the sauce and relish on the top burger bun. Add a beef patty to the bottom bun, top with a few slices of bacon, place the top bun with the sauce on the patty and enjoy.