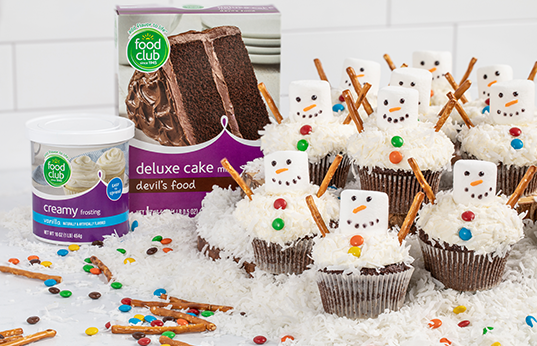 Snowman Cupcakes
Download
Prep Time: 20 min
Cook Time: 20 min
Total Time: 40 min
Serves: 24
Ingredients
3 large eggs
1 cup water
1/3 cup vegetable oil
1 (16.5-ounce) box Food Club Devil's Food Cake Mix
1 (16-ounce) container Food Club Vanilla Creamy Frosting
2 cups Food Club Sweetened Coconut Flakes
24 Food Club Marshmallows
48 Food Club Pretzel Sticks
72 mini chocolate candies
Orange decorating icing
Black decorating icing
Method
Preheat oven to 350°F. Line 2, 12-cup muffin tins with paper liners. Set aside.
Whisk eggs, water, and oil in a large bowl. Add cake mix and stir until combined.
Scoop batter into prepared muffin tins and bake 18 to 20 minutes, or until a toothpick inserted in the center comes out clean. Let cool in pans for 5 minutes before transferring cupcakes wo wire racks to cool completely.
Frost with vanilla frostingand dip, frosting-side-down, into coconut flakes. Make each snowman with one marshmallow, two pretzel sticks, and three mini chocolate candies. Draw on snowman's nose with orange icing, and eyes and mouth with black icing.