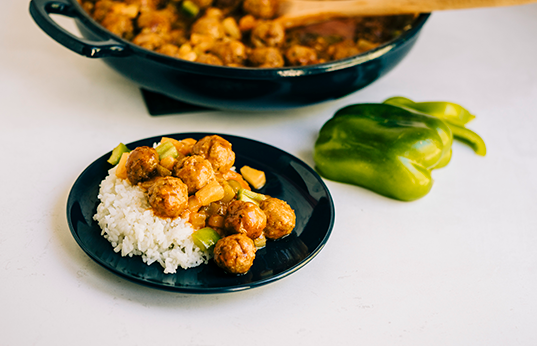 Sweet and Sour Meatballs
Download
Serves: 4
Ingredients
26 ounces frozen, home-style Food Club meatballs
2 tablespoons olive oil
1 medium onion, diced
1 large green pepper, seeded and diced
1/2 teaspoon kosher salt
2/3 cup brown sugar
2/3 cup apple cider vinegar
1/2 cup ketchup
2 teaspoons soy sauce
1/2 teaspoon ground ginger
1/2 teaspoon garlic powder
1 tablespoon cornstarch
2 tablespoons cold water
1 (20-ounce) can pineapple tidbits, drained with juice reserved
Directions
Heat olive oil in a large skillet over medium heat.
Once hot, add the onion, bell pepper and salt and cook until the onion turns translucent, about 2-3 minutes.
In a medium-sized bowl, whisk together the brown sugar, vinegar, ketchup, soy sauce, ginger, garlic powder, and 1 cup of the reserved pineapple juice.
Pour the pineapple juice mixture into the onion and peppers and stir until combined.
Submerge the frozen meatballs into the sauce, bring to a simmer, cover and cook until heated through, about 8-10 minutes.
In a small bowl, combine the cornstarch with the water and mix until smooth.
Pour the cornstarch mixture into the simmering meatballs and cook until the sauce is thickened. Cook for 1 additional minute and turn off the heat.
Stir the pineapple into the meatballs and serve over steamed white rice.